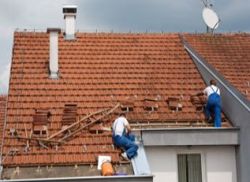 No matter what the season, roofs are subjected to some pretty grueling conditions. In the winter, they're pelted with sleet, snow, and ice, and in the summer, they're baked for hours every day by the scorching rays of the sun. After two or three decades of harsh environmental conditions, your roof shingles will undoubtedly start showing signs of deterioration. If you've noticed that your asphalt roof shingles are broken, curling, or missing, it may be time for roof replacement.
Some people wait to replace their roofs until water is seeping though the ceiling, but by that point, their house has already begun to sustain water damage. The best time for roofing replacement is well before your roof is actually leaking! If you suspect that you may be overdue for home roof replacement, give us a call today at William Arsenault Contracting, LLC. As a first step, we'll provide you with a free roof inspection and cost estimate for shingle roof replacement.
Quality Roofing Replacement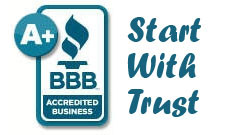 With 40 years of experience in the roofing business, we offer some of the highest quality craftsmanship and shingle installation in the Manchester area. In fact, our mission statement is: "We do every job as though it were for ourselves." So whether you're interested in three-tab asphalt shingles or the dimensional look and durability of architectural shingles, we can provide you with roofing replacement that will protect your house and enhance the appearance of your property. Customer satisfaction is one of our top goals, and we stand behind our work with a lifetime workmanship warranty.
As a family-owned roof replacement business, William Arsenault Contracting goes to great lengths to provide homeowners with a high level of service and expertise. Our dedication to great customer service, superior product quality, and reasonable pricing has earned us an A+ rating with the Better Business Bureau. We've also garnered scores of favorable online reviews posted by satisfied roofing customers from throughout the Manchester region. We'd love to bring our commitment to customer service and quality craftsmanship to your home, so contact us today for more information on our roof replacement repairs!
Free Roof Inspections and Estimates
If you're considering home roof replacement and would like to have us provide you with a free roof inspection and estimate, please contact us by e-mail or phone. We'd be happy to work with you to devise a roof replacement plan that suits your budget, complements the style of your home, and provides maximum protection for the pitch of your roof. In addition to asphalt shingles, we offer the option of rubber roof replacement, an ideal waterproof alternative for flat or low-pitch roofs. Our team is happy to provide you with the information you need to make the best choice for your property, so don't hesitate to call with your questions about roofing materials, our home roof replacement services, and more.